The family business was founded in 1940, by Mr. José Galiano Sanchez. The company opened on a small shed in Calle Antequera, Coin (Malaga). He began doing work plowing, repair factories and oil mills flour. Over the years bought new machinery, including the first electric welding in Coin and surrounding areas.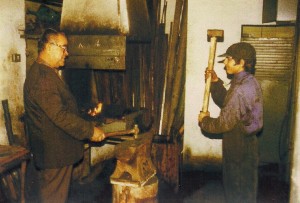 ---
Following him his son, D. Juan Galiano Cañamero, learning the craft of
forging and expanding their knowledge to new ways of working that the
market demanded.

For that, he had to change the workplace and move to the new Cantarranas industrial Polygon in Coín with 350m2  of shed  and new machinery. Currently we are also his children.
---
Our philosophy is focused on personalized customer service, performing
quality work at the best price.
---
In our facilities you can choose a wide range of forging and casting models, fences gates, railings and stairs. Iron doors, folding, sliding, tilting, sectional and blinds, you can automate. All types of structures and roofs. Also works for communities